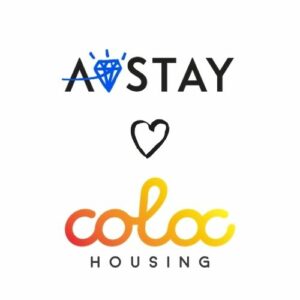 Today, we are announcing an official partnership with Coloc Housing, transforming an entire floor at A-STAY Antwerp into two co-living cohorts with communal space!
"This partnership enables the best of both worlds: the community feeling of co-living, and the service level of a hotel. There is no better combination to unfold a city" – Thomas, our CEO

Your own A-STAY home for long term rent!
As your urban, tech-focused hotel in the heart of Antwerp, we have always wanted to welcome both a short and a long stayers.  We strive to continuously push boundaries of a traditional hotel experience and this, together with the impact of the pandemic, has lead us to partner with Coloc Housing.  Coloc Housing is a cool co-living start-up for longer term rental.  What is special with them is that everything is done completely online.  You choose the location, view the house and even meet your potential roommates digitally!  Right now Coloc Housing has locations in Brussels, Leuven and Ghent and with our partnership expands into Antwerp and A-STAY.  Lucky us!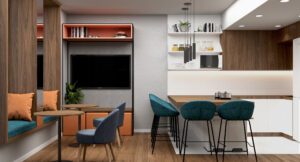 The partnership kicks off by starting to transform one room on a floor into a fully equipped kitchen with a comfy couch and a large TV for chilling about.  7 lucky co-housers get access to this space, which will be on the same floor as their own private A-STAY room.
You can rent the rooms on a monthly basis any day now, so if you are looking for an incredible place to stay for a month or longer, check  this website now!  This is your chance to call A-STAY your home with all it's perks.
So what are the perks?  Besides month to month flexibility, you actually get a 2 for 1 deal.  Traditional co-housers keep the communal feeling in renting a space together, but with the added benefits of a hotel.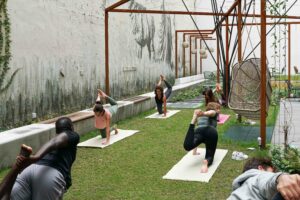 At A-STAY, co-housers can book cleaning beyond the included weekly service, can add a parking space for a day or a month, or simply book a meeting room at short notice in the same building they live in. You will also have access to a fitness, a beautiful garden in the heart of Antwerp and 24/7 access to the Grabn'Go food wall.  The perk list is endless.
' Together we're creating a space which is beautifully designed for young professionals where they, and Coloc Housing, can become part of the Antwerp community.' – Christophe, Co-Founder Coloc Housing